Snapchat's parent company Snap Inc recently filed for a $3B IPO, considering the valuation of $25B. Currently, Snapchat has 161M daily active users as per the reports documented.
Snapchat's chief strategy officer recently said that Snapchat is a camera company, not an app or a social networking platform. Snapchat wants to be the next camera company in the market. And according to their IPO filing reports also, it has been cleared that it is a camera company but not any other social media app.
So now the question is, will Snap Inc's IPO be the next Facebook or it will be like Twitter's?
Let's find out.
Snapchat's Acquisitions 
According to CrunchBase data Snapchat has acquired till now nine companies.  Out of all the nine companies, the biggest acquisition was Looksery for $150.6M in cash & stock option. Up till now the hottest exclusivity about Snapchat is its amazing filters and disappearing images.  Using Looksery's technology which is intriguing and unusual, there's still an enormous amount of traction on Snapchat.
Snapchat's second biggest investment in the list is Vurb for $114.5M in cash & stock option. Vurb is mobile search app; possibly Snapchat could use Vurb's technology in their app. I did not dive into much of it, so I don't know.
Recently Snapchat launched its spectacles for $130, which is easily scalable and profitable for a company like Snapchat as earlier Snapchat had a hard time figuring out their revenue model.
Snapchat is also seeking to spend around $2B in next five years on Google cloud.
YoY Growth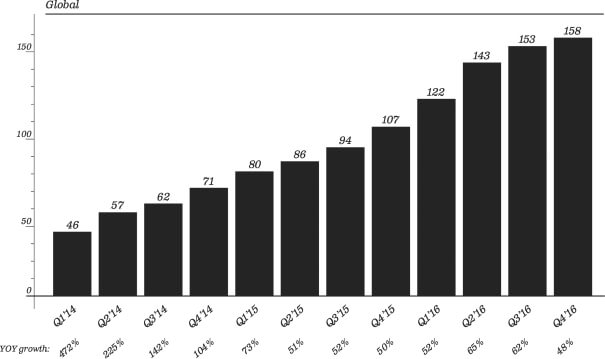 Snapchat reported they had a 161M daily active users in the last month of the last quarter i.e. up till 31st December 2016. If you compare this number to the previous quarter's DAU (daily active user), you'll observe that the growth has slowed down.
Here's what Snapchat commented on their declined growth rate:
We anticipate that our Daily Active Users growth rate will decline over time if the size of our active user base increases or we achieve higher market penetration rates. If our Daily Active Users growth rate slows, our financial performance will increasingly depend on our ability to elevate user engagement or increase our monetization of users. If current and potential users do not perceive our products to be fun, engaging, and useful, we may not be able to attract new users, retain existing users, or maintain or increase the frequency and duration of their engagement. In addition, because our products typically require high bandwidth data capabilities, the majority of our users live in countries with high-end mobile device penetration and high bandwidth capacity cellular networks with large coverage areas. We, therefore, do not expect to experience rapid user growth or engagement in countries with low smartphone penetration even if such countries have well-established and high bandwidth capacity cellular networks. We may also not experience rapid user growth or engagement in countries where, even though smartphone penetration is high, due to the lack of sufficient cellular based data networks, consumers rely heavily on Wi-Fi and may not access our products regularly.
Why is Snap Inc. calling itself a Camera Company?
In their SEC filing, Snap Inc. has described themselves as a "Camera Company" and not as any social media/app or any other tech term.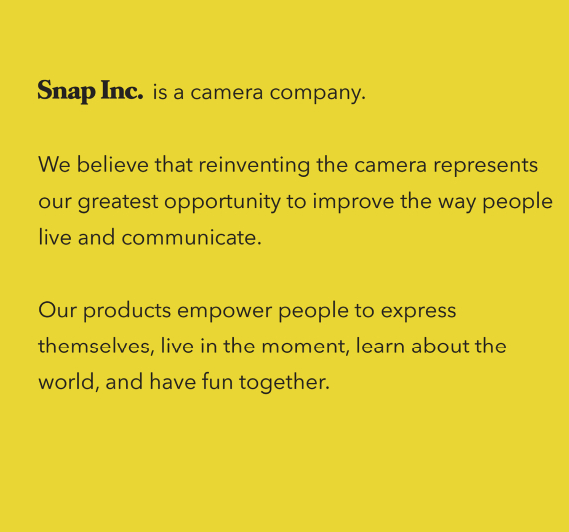 As I mentioned earlier that Snap Inc has recently launched their physical product called "Spectacles" which costs around $130.
The company faces huge competition with Instagram and Facebook, as they've likely adapted Snapchat's features in their native apps. Recently Instagram launched stories and live streaming and so did Facebook start live streaming.
After that launch of Instagram stories which hit the DAU mark of 150M last month, Snapchat's growth rate has gone down to 82%.
So what's the big catch? Snap Inc. wants to be the camera company because there's way much more than you can image in being one. With VR and Augmented Reality, the camera has transitioned into something different. Even Google and Facebook are way more into VR & AR.
Microsoft is coming up with their HoloLens, while Google tried Google Class but failed as it cost around $1500 and provided no real value to its users.
Facebook bought Oculus Rift back in 2014 for $2B, and also Tim Cook CEO of Apple Inc. has predicted that a "significant portion of the population of developed countries, and eventually all countries, will have A.R. experiences every day, almost like eating three meals a day. It will become that much a part of you."
Snapchat's Revenue
Snapchat saw $404M revenue in the year of 2016 and daily active user growth from 130M at the beginning of 2016 to 160M at the end of the year. Snapchat is expecting whopping $1B revenue by the end of 2017. Meanwhile, if we look at the growth rate which is significantly down because of Instagram, I don't think Snapchat's revenue will be anywhere near $1B this year if they don't come up with a solution to get their users back.
According to this article on Techcrunch, Snapchat's viewership has been down compared to Instagram, and Snapchat's ad revenue is solely dependant on the viewership of the users.
The IPO
Snap Inc. filed for $3B IPO which will put their company at the valuation of $25B. So far, the market considers this is a massive hype, and it's going to implode soon, whereas Instagram has already started stealing their users by copying Snapchat's "stories" feature. And Instagram's daily active user mark has touched 150M by now, and soon enough it's going to beat Snapchat's daily active users mark if it's going in this phase.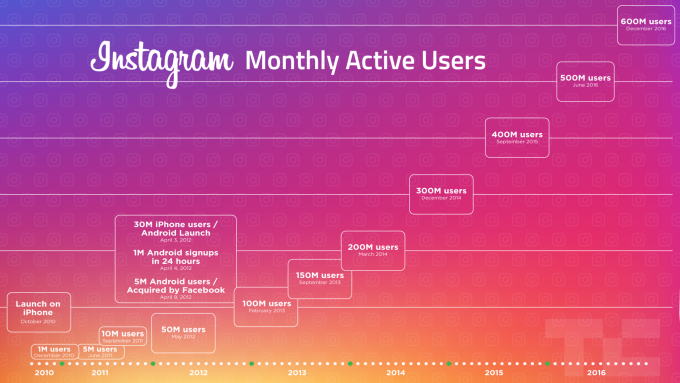 Image Source: Techcrunch
Since last quarter Snap has been telling their users that they are "camera company" but as of now, their primary ad revenue depends on it's App. And while Instagram is stealing their users and crushing Snapchat, there's one another concern too, that is; any app/social media network requires an international growth, which Snapchat clearly doesn't have right now.
Instagram has 600M monthly active users out of which 80% are international. And if the growth rate of it's stories increases by this number, it's going to be way bigger than Snapchat itself.
Meanwhile, as Snapchat is preparing for it's IPO in March this year, it should also prepare for a massive breakdown.